You are looking for an original idea for the birthday party of your kid ?
Your kid is passionate of insects and you want to offer him/her an unforgettable moment with his/her friends ?
Fourmidables® offers a festive, innovative and different formula for birthdays, weddings, kermesses, family celebrations and any event !
From animation to decoration and the preparation, we offer multiple services to be as close as possible to your needs: creative workshop, candy bar, invites, gifts for your guests, polaroid renting…
We use all our skills and enthusiasm to make this day an unforgettable moment for your kid.
Animations are adaptable according to ages and the offer is completely adjustable to your needs, please feel free to contact us !
A Fourmidables® party, how does that work ?
You choose:
The time and hour of the event (every party is tailor-made to your needs, we will need to know your specifications at least three weeks in advance).

The offer: animation, workshop or a complete formula. Supplementary services are in options. 

The theme of the animation or workshop. Ants, butterfly, beetle, gardening or DIY workshop… You choose !
2h hours before the event: decoration at your place by Fourmidables®.
Guests are arriving ! Welcome of the kids and… let starts the Bug Party !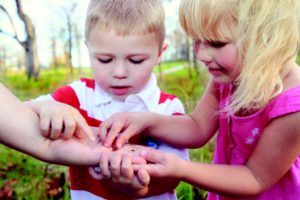 It is the occasion to discover the incredible world of insects ! We invite kids to come into the fascinating world of ants, to travel in every parts of the world with our naturalist collection or to closely observe the butterfly scales. Laughs an unforgettable moment will be there.
2 hours
How to attract the beautiful butterflies and other insects in our gardens ? Let's put ourselves at the service of biodiversity ! Our workshops are playful and educative. Children will be creative during the construction of an insect hotel, plant flowers during a gardening workshop, build seed bombs or express their artistic talent during various manual activities.
2 hours
A complete formula is available !
This includes: an animation or a workshop + decoration of the party in insects themes + personal invitations +  polaroid renting + a candy bar!
Decoration of the party in insects themes

Piñata empty or filled with candies and toys
Candy bar

Table clothes, cutlery, cups

Personal invitations

Gift for the guests

Polaroid renting + 20 photos
Do not hesitate to ask us for a personalized quote.
From 15€/child for an animation *
From 20€/child for a workshop *
From 40€/child for the complete formula *
*Group of minimum 10 children.